Please call us at 605-692-7101 to book appointments
Veterinary Clinic in Brookings, SD
The veterinarians, technicians and support staff at Sutton Veterinary Clinic, PC work together with your family to ensure comprehensive care for your pet. We treat all pets with dignity, compassion and kindness!
We're available for wellness exams, pet chipping, pet immunizations, and more. Call us today to schedule an appointment or to speak with a friendly member of our team! Providing Special Care For Your Pets
We welcome cats and dogs of all breeds and sizes, delivering a complete scope of care that includes general wellness, immunizations, surgery, microchipping and more!
Proudly serving the Brookings and surrounding communities for 45 years.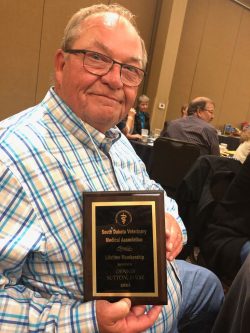 Our Veterinarians Are Here to Support Your Pet's Total Wellness!
Our pets can't always tell us how they're feeling. When they start behaving strangely or showing signs of illness, you can't waste any time in getting them to a veterinarian in Brookings, SD. Regardless of how they're feeling, our veterinary clinic will make sure your furry friend is getting the care they need to be well.
We're with you every step of the way when caring for your pet. When they're young, we'll get them up-to-date on vaccinations and make sure they're spayed/neutered. In their younger years, we'll be there for things like dental care, annual checkups and necessary surgeries—as well as when unexpected health issues arise. And, when your dog or cat enters their senior years, we'll match our care to ensure they live out their years happy, healthy and well-cared-for. We know your pets are part of your family, which is why we treat them like nothing less.
Keep Your Pet in Good Health
Just like us, our pets need access to quality healthcare. Make sure your pet is getting the care it needs, no matter its age or health condition.
Contact us today to schedule an appointment.
We deliver care with compassion and kindness.
Our veterinary clinic in Brookings, SD is staffed with pet lovers who are highly skilled and extremely well educated. We get to know your pet in order to deliver care that's tailored specifically to them.
Whether it's choosing one medication over another or recommending the right course of treatment for a condition, trust that we'll do right by your pet. We're here for them (and for you), for as long as they're part of your family.
We've been practicing veterinarians since 1976 and have proudly served local pet owners from the same location since 1978.
Our practice is family-owned and locally operated. We take a lot of pride in helping local pet owners care for their furry friends!
We're a Certified Vet Technician, and state-licensed veterinarians in South Dakota and Minnesota.
We're members of the American Veterinary Medical Association (AVMA) and the South Dakota Veterinary Medical Association (SDVMA).
Locally -Owned & -Operated
Your local veterinarians serving Brookings County, SD, which includes the towns of:
Brookings, SD
Aurora, SD
Bushnell, SD
White, SD
Toronto, SD
Elkton, SD
Ward, SD
Flandreau, SD
Egan, SD
Trent, SD
Colman, SD
Wentworth, SD
Madison, SD
Rutland, SD
Ramona, SD
Nunda, SD
Oldham, SD
Sinai, SD
Arlington, SD
Hetland, SD
Badger, SD
Bruce, SD
Estelline, SD
Astoria, SD
Volga, SD